From Broome to the North Pole
Australia's first Aboriginal man travels to the top of the world to participate in the North Pole Marathon Show your support.
---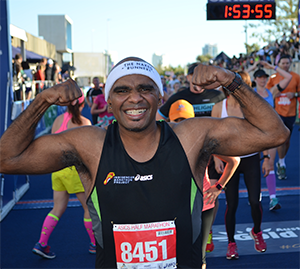 Adrian Dodson-Shaw - 2014 IMP Graduate

"Don't die wondering"

These are the words that continue to inspire 2014 IMP graduate from Broome, Adrian Dodson-Shaw.

Adrian was born in Derby, Western Australia on 12 February 1984. His father is a Yawuru man from Broome and his mother is a Kaytetye/Arrernte woman from Alice Springs.

His involvement in IMP in 2014 and the life changing transformation that evolved was a challenge he embraced and will continue to use to drive his future ambitions.

"Having the privilege to share the journey with the other 11 other indigenous men and women that made up the squad, was a great opportunity that I'm so ever grateful to be part of".

"I was challenged to get fit and in doing so I changed my life style surrounding alcohol and the binge culture it creates".

"It really brought the best out of me and I became the role model I wanted to be for my kids. But it wasn't all about running - we had to complete a Certificate IV in Leisure & Health which was the most important because taking a qualification away along with a medal around my neck is equally important."

Adrian jumped at the chance to continue pushing his personal boundaries by applying for the North Pole Marathon and in doing so, become the first Aboriginal Australian to compete in one of the world's most gruelling challenges.

"My main drive along with IMP is to show my people that anything is possible when you keep yourself fit and healthy and how running is a simple tool to use, and when an opportunity comes up grab it with both hands".

"Don't die wondering."
---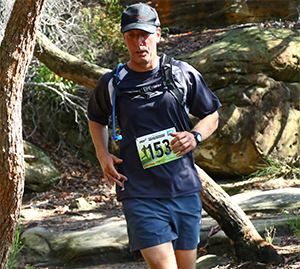 Jon
Born in London in 1964, my family moved to Australia when I was young. As a teenager, I started distance running with my father and ran my first marathon in 1990 at the age of 25. I recall regularly seeing Rob 'Deeks' de Castella out running in those days and like a generation of long distance runners, was inspired by his achievements.
Fast forward 25 years and I am a proud father of four children. I am still running regularly although now I often run with my children, just as my father ran with me.
Running has always been a very personal endeavour for me, an opportunity to challenge myself, to impress myself, but also an opportunity to set a good example to my family and friends.
I have for a long time had a goal to run an epic marathon, through a desert, at altitude or across the ice, but I had always considered it a selfish pursuit. Being part of the Indigenous Marathon Project is allowing me to achieve this dream whilst helping other people achieve their dreams.